elektrostatische spray sublimatie warmteoverdracht base primer poedercoating
Jinhu Colour Powder Coating Co., Ltd heeft meer dan 30 jaar ervaring in het produceren van de poederverf. Met ervaren technologie hebben we een goede reputatie bereikt in binnen- en buitenland. De producten hebben de ISO, BV & RoHS-vereisten behaald. En wij geloven dat BETERE TOEKOMST KOMT VAN BETERE SERVICE!
GESCHIEDT OP CHEMIE:
Epoxy Powder Coating

Excellent Anti-Corrosion
Excellent chemical resistance
High mechanical performance
Recommended for interior

Epoxy-Polyester/Hybrid

Good chemical resistance
Good mechanical property
Excellent flexibility
Recommended for interior

Polyester-TGIC

Excellent UV resistance
Excellent flexibility
Excellent overbake stability
Recommended for exterior

Polyester TGIC-Free

Excellent UV resistance
Excellent flexibility
Good overbake stability
Recommended for exterior

Polyurethane

Excellent anti-corrosion
Excellent flexibility
Excellent smoothness
Suitable for exterior/interior
Sorteren op afwerking of kenmerk:
Anti-gassing poedercoating Anti-graffiti poedercoating
Antimicrobiële poedercoating Chrome Effect poedercoating
Krokodil Huidpoeder Coating Hittebestendig
Metaal / Peal poedercoating Sublimatie poedercoating
Textuureffect Poedercoating Transparante heldere topcoats
Wood Effect Powder Coating Zinc Rich Epoxy Primers
Voordelen van Powder Coatings:
• Sterke, duurzame en duurzame coating voor metalen. Uitstekende hardheid en slijt- / slagvastheid geeft verbeterde productprestaties bij de meeste vloeibare coatings.
• Breed kleurengamma.
• Milieuvriendelijke uitbestedingsoptie om te voorkomen dat verf op oplosmiddelbasis wordt toegelaten.
• Minder procesvariatie resulteert in consistente kleuren en het uiterlijk van het product.
• Hoge filmopbouw en uitstekende randbedekking geeft betere weerstand tegen corrosie met de juiste
voorbehandeling.
• Coatings kunnen gemakkelijk worden geformuleerd voor specifieke toepassingen zoals langdurige blootstelling aan zonlicht, het vermogen om te overleven in sterk corrosieve omgevingen, flexibiliteit om vormen na het coaten mogelijk te maken, of hoge duurzaamheid en weerstand tegen chippen.
Substraten gecoat:



Cold Rolled/Hot Rolled Steel

Galvanized Steel

Iron Castings

Zinc Castings

Copper/Brass

Magnesium

Aluminum Extrusions and Castings

Rare Earth Magnets (NdFeB)

NiZn Plated Steel

Stainless Steel

Powder Metallurgy Parts

Some Non-Metallics



We bieden poedercoatingsmogelijkheden die een breed spectrum aan kleuren, diktes, texturen, zachtheid, randbedekkingen, flexibiliteit, bewerkbaarheid, gladheid en temperatuurbereiken omvatten.
Poedercoating past bij uw product:
"Environment Solution "
Excellent Impact and Mar Resistance
Variable Thickness
Excellent Weatherabilty
Colors, Textures, Gloss Level Option
Filmprestaties
Test Item

Test standard and Method

Test index

Impact resistance

GB/T 1732 -1993

ISO6272

50kg·cm

Adhension(cross-cut)

GB/T 9286 - 1998

ISO2409

Class 0

Flexibility

GB/T 6742-1986

ISO1519

2mm

Pencil hardness

GB/T 6739-1996

ISO2815

1H-2H

Cupping test

GB/T 9753-1988

ISO1520

6mm

Salt spray resistance

GB/T 1771-1991

ISO7253

>400 Hours

Heat & humidity resistance

GB/T 1740-1979

ISO6270

>500 Hours,film gloss slightly lose

Note: 1. Above test are using 0.30mm thickness degreased, rust removed cold rolling steel plate, film thickness is 60-80um.

2. Film performance may slightly decrease with gloss decrease.
Hoogglans (> 85%), glanzend (76-85%), halfglans (50-75%),
Subglans (20-50%) en Matt (<20%)
Opslag en verzending
De verflaag voor transferpoeder moet worden bewaard in een geventileerde, droge en schone ruimte met een temperatuur lager dan 25 ° C. Houd deze uit de buurt van vuur, hitte en direct zonlicht. Buiten stapelen is verboden. Vermijd regen en blootstelling aan zonlicht tijdens verzending.
Gezondheid en veiligheid
De transferpoedercoating bevat geen gevaarlijke ingrediënten. Het dragen van een anti-stofmasker en een veiligheidsbril om inademing van stof te voorkomen. Probeer het beste om langdurig contact met poeder te vermijden. De coatinglijm op de huid kan met zeep worden gewassen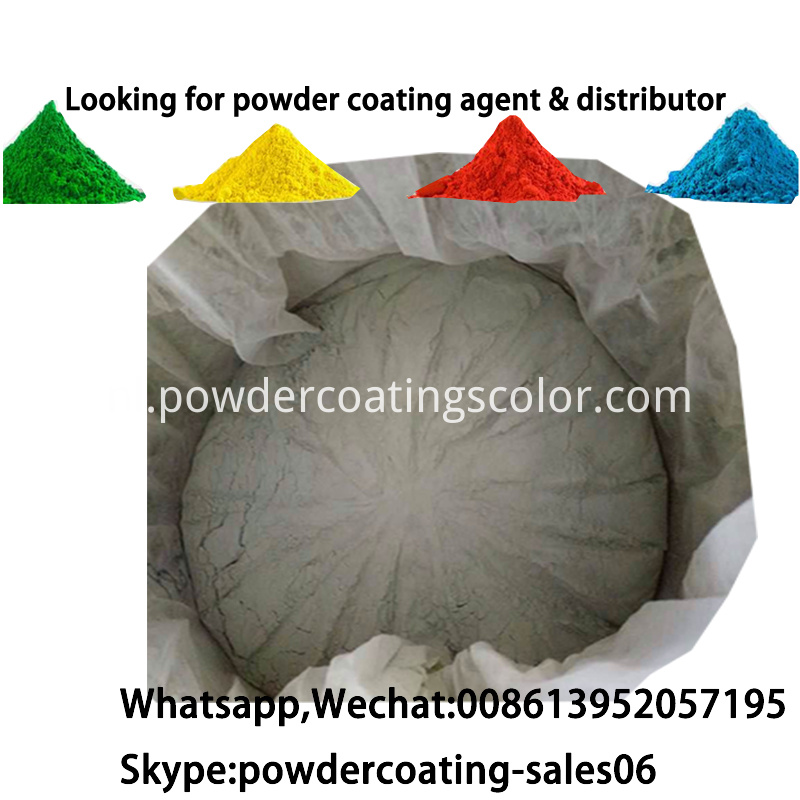 Product Categorie : Warmteoverdracht poeder Coating