antimicrobiële poedercoating

DESC RIPTI ON
Onze [Antimicrobial

Powder Coating

"biedt bescherming tegen een breed spectrum van micro-organismen, zoals AFT,

Penicillium,

citrinum, etc.

De uitgeharde film vertoont verbeterde weerstand tegen bacteriën en schimmelgroei

Uitstekende mechanische eigenschappen en corrosiebestendigheid

Goede doorstroming en nivellerende eigenschappen

Hoge stabiliteit temperatuur en uitstekend kleurbehoud

Geschikt voor buiten- en binnentoepassingen
KENMERKENDE
Chemie:

Epoxy Polyester

/ Polyester / Polyurethaan

Deeltjesgrootte: Geschikt voor elektrostatisch spuiten

Soortelijk gewicht: 1.4-1.7g / cm3 tot kleuren

Droogtijden (object temp.): 180

° C / 10-15 minuten; 200 ° C / 6-10minutes

Opslag: Droog verluchting onder 30

° C (open blokken moet goed afgedicht)

Houdbaarheid: 12 maanden
TOEPASSING
Huishoudelijke apparaten: koelkasten, lucht geblazen luchtbevochtigers en wasmachines etc.

Sanitation: Keukengerei, badkamer draagt, vaatwassers en winkelwagentjes etc.

Meubelindustrie: Staal rekken, kasten en lades etc.

Gezondheidszorg: Ziekenhuizen Instrument trays, sterilisatie apparatuur, kasten enz.

Voedselverwerkende apparatuur: dienbladen, vitrines, voedselverwerkende apparatuur etc.
SUBSTRATEN en voorbehandeling
Toegepast op de volgende substraten na passende reiniging en omzettingsdeklaag.
Ferrometalen (koudgewalst staal, gietijzer etc.) ijzer of zink fosfatering

Oppervlakken zink (gegalvaniseerd staal, zinklegering): chromateren of zink fosfatering

Aluminium legeringen: chromateren
OPSLAG
Moeten worden opgeslagen onder droge omstandigheden met een goede ventilatie bij een temperatuur van maximaal 30 ° C

Bewaartermijn worden geadviseerd, mogen niet meer dan 6 maanden, in het geval van meer dan 6 maanden zonder gevolgen voor het vrij stromende eigenschappen, zal het poeder nog steeds optimale eigenschappen.

Moeten worden beschermd tegen extreme hitte, vocht, water en verontreiniging met vreemde materialen zoals poeder, stof, vuil, etc.

Eventuele overgebleven poeder moet in een passende omgeving die is koel en droog worden gehouden. Niet blootstellen aan de lucht te lang als het poeder eigenschappen kunnen verslechteren met het vocht.
Wij bieden poedercoating mogelijkheden die een breed spectrum van kleuren, dikte, texturen, zachtheid, edge dekking, flexibiliteit, machinabilities, gladheid en temperatuurbereik bevatten. Gratis samples zijn beschikbaar.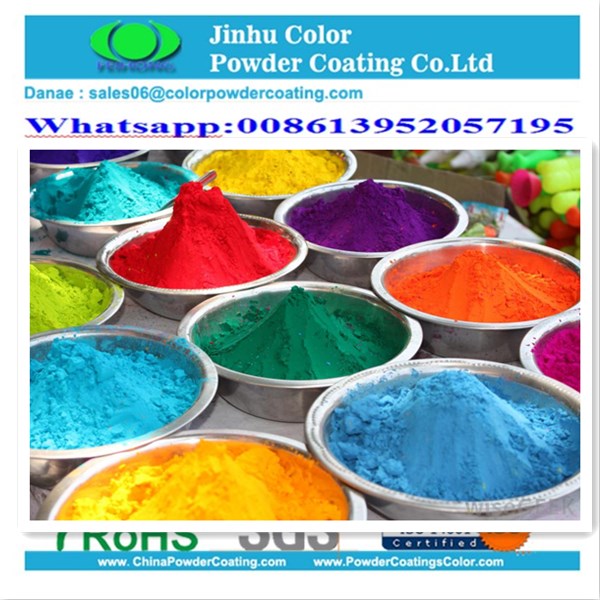 Product Categorie : Epoxy poedercoating